Small wedding parties seem to be increasingly popular option, especially for couples who are over 30 and who have already established their life together. They may already own a home together, may have even started their family together, but are definitely focused on the wedding day being about them as a couple.
If any of these characteristics describe you, or if you are simply looking for a simpler kind of wedding day, opting for a small wedding party may be the way to go. I define small wedding parties as zero to two attendants (bridesmaids, groomsmen, whatever) for each of you, and no children (flower girls, ring bearers). Admittedly, this is a somewhat arbitrary definition, but if you're going to achieve the benefits of a small wedding party, I think it's a pretty good definition.
So what are the benefits of a small wedding party? Here's a brief list:
– lower cost: fewer gifts to buy, fewer cars to arrange to transport the wedding party, fewer bouquets and boutonnieres needed, smaller rehearsal dinner expense, smaller salon bill (if you're paying for the women's hair and makeup for the day).
– less stress: fewer people to get in the right place at the right time – think pictures, ceremony line-up, more pictues, grand entrance, wedding party dance, more pictures.
– less drama: fewer people by definition means fewer emergencies, fewer wardrobe malfunctions (or ill-fitting tuxes), fewer last minute illnesses, and few hurt feelings.
– more meaningful time with your wedding party: as a group of two, four or six people (you plus one or two attendants each) you become an intimate party unto yourselves, rather than a small herd you're just trying to keep together. Quick conversations and shared moments can become lasting memories of your wedding day.
– more focus on you as a couple: with only a few of your closest relatives and friends standing up with you, the focus will naturally stay more on the two of you. They will be honored to be part of the party, but are more inclined to be focused on helping you have the day of your dreams.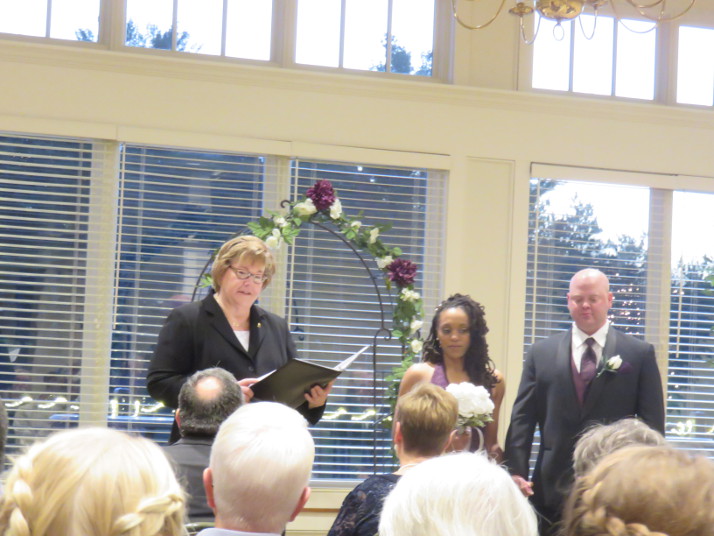 OK so with all these benefits, what are the down sides to small wedding parties? Well, you're going to have a smaller number of people surrounding you all day (you get to decide if this is a plus or minus). If you are a real extrovert and love a crowd, a small wedding party may not be the right choice for you. And if you're looking for lavish showers, bachelor or bachelorette parties, you'll need to include friends outside the wedding party in those festivities, too. And the most common driver of large wedding parties is the desire to not pick among friends, to favor some over others when selecting your attendants. But a truly small wedding party – only a single honor attendant for each of you, or no attendants at all – may be a great solution to that problem, too. Give some thought to your personalities, to your wishes for your day, and what the right size wedding party meets your vision, and only then start inviting people to stand with you on this very important day.