Taking your ceremony space up a notch doesn't have to be difficult or pricey. With a little thought, planning and creativity you can make your ceremony venue especially memorable. It can be a bit of a challenge to create a special ceremony space in an open area outdoors. You want to focus attention on the space without overwhelming the natural beauty that likely led you to choose the venue in the first place.
Here are some simple, relatively inexpensive ways to define and focus your outdoor venue:
1. If you don't have a natural "wall" of greenery, stone or other natural material backing the ceremony space, consider creating the illusion by hanging fabric or picture frames from a tree branch. Then position your wedding party in front and you're ready to go.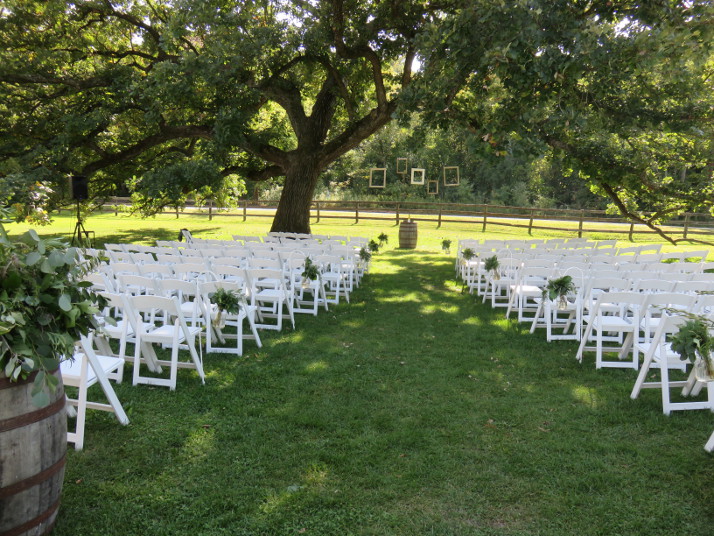 2. Inexpensive decor options that define space include satin ribbons or gauzy fabric tied to guest chairs, or ribbons hanging from trees or positioned in a simple large frame. Simple baby's breath or greenery gathered with a ribbon, raffia or burlap can also be tied to chairs at a fraction of the cost of floral arrangements.
3. Another flexible idea is to use a freestanding door at either the back or front of the ceremony space. Positioned at the back, it can create an impressive entrance for the wedding party. Used at the front, it can frame the ceremony action.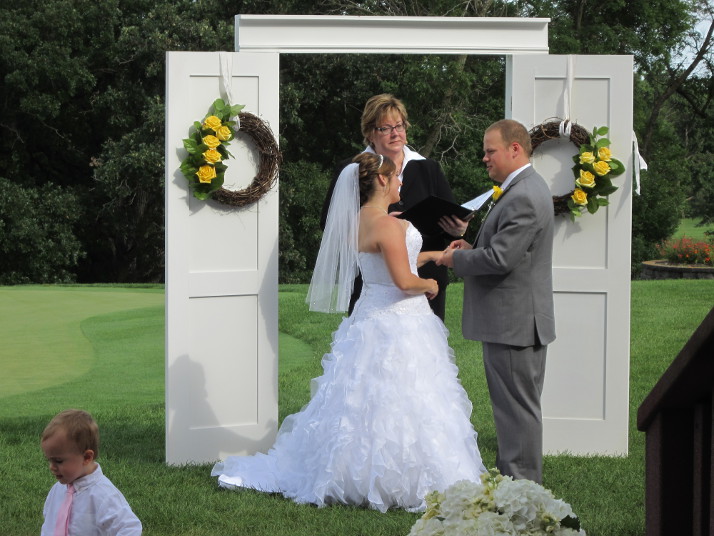 4. In a large area, consider signposts to direct your guests from parking to the ceremony space. A large sign or chalkboard with the order of the ceremony can be an attractive focal point at the back of the ceremony space and eliminate the need for ceremony programs.
And finally, there are a couple of things I see at ceremonies that can probably be eliminated altogether: bubbles and bells. These props are supposed to be used to celebrate the couple as they leave at the end of the ceremony, but are usually forgotten, ignored, or intentionally avoided. I suggest you save your money on those items and use it elsewhere in your wedding budget.