Each couple has a unique story that deserves to be shared and honored. Your ceremony can be a highlight of your day, and can lead off the day's activities in an authentic and memorable way.  As your wedding officiant, let's collaborate to create the ceremony of your dreams.
Your ceremony can be as simple or elaborate, romantic or lighthearted, formal or informal, and as long or short as you wish. We'll work together to define the content of your ceremony. I've been formally trained in ceremony creation and presentation, and can offer many options for your consideration. Telling your story and celebrating the special love you share will be the centerpiece of the ceremony I write for you. Working collaboratively, we'll refine the ceremony until it is exactly what you want to hear on your wedding day.
Please look at the galleries, below, and Testimonials pages to see some of my previous ceremonies and comments from couples I've worked with.
It is never too early to book your wedding celebrant, so if you might be interested in working with me, please use the links at the bottom of this page to contact me as soon as you've selected your wedding date and venue. I look forward to hearing from you.
Couples
Each couple has a story to honor and celebrate. Recent couples I've worked with are featured. Click on the picture to open the gallery.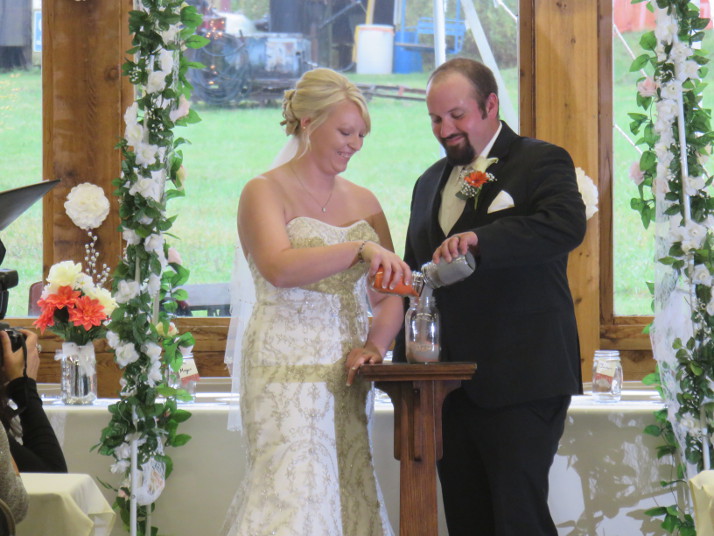 Megan & Bob, October 2017

Megan & Bob, October 2017

Karen & Bob, October 2017

DJ & Candie, September 2017

Kyle & Sophany, September 2017

Jordan & Kyle September 2017

Melissa & Jose, September 2017

Shinead & Jose, September 2017

Michael & Krystal, September 2017

Steve & Kari, August 2017

Kayla & Tony, August 2017

Kaitlin & Jared, July 2017

Victor & Brandi, July 2017

Troy & Ashley, July 2017

Dana & Vegas, July 2017

Linnea & Anthony, June 2017

Dan & Amanda, June 2017

Mitch & Sabrina, May 2017

Alex & Trisha, April 2017

Marion & Shawn, April 2017

Bethany & Raj, March 2017

Juliana & Kenny, February 2017

Aaron & Laura, November 2016

Ashley & Mike, October 2016

Michelle & Kevin, October 2016

Chris & Abby, October 2016

Jacqueleen & Nick, September 2016

Tony & Anna, September 2016

Brandon & Karissa, September 2016

Bailey & Jason, September 2016

Scott & Diane, September 2016

Rob & Jamie, August 2016

Megan & Andrew, August 2016

Alex & Andrea, August 2016

Amy & John, August 2016

Laine & Jordan, July 2016

Amy & Ben, July 2016

Erin & Jared, July 2016

Kristen & Todd, July 2016

Anne & Allie, June 2016

Jonathan & Kiran, June 2016

Lomeli & Sam, June 2016

Ben & April, June 2016

Kelly & Tom, June 2016

Caitlyn & Tom, March 2016

Emily & Jason, January 2016
Ceremony Moments
Meaningful rituals personalize your ceremony and make it memorable for you and your guests. Click on the picture to open the gallery.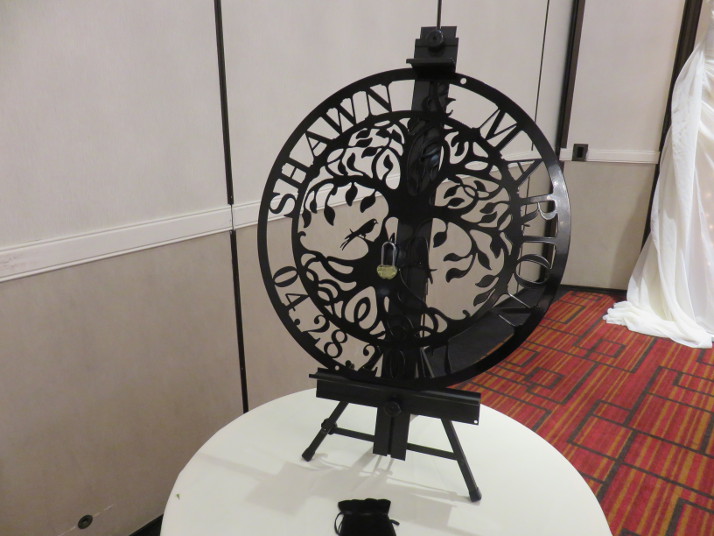 Love Lock

Love Lock

Adapted from an international ritual, the couple place a lock on a wall hanging or other item, and throw away the key, signifying locking themselves in their love forever. A variety of props are available for this ritual that include one, two or no keys at all.

Love Letters

This new unity ritual option involves the couple writing love letters before the wedding day. The letters, along with a bottle of your favorite wine (or other beverage or mementos) are placed in a box. On each anniversary, you will open the box, share the wine, read the old letters and write a new one, recommitting to your love and marriage. At a 25th or 50th anniversary, you will have a lovely record of the life you've shared.

Handfasting

Based on old Celtic traditions, this ritual gave us the phrase "tying the knot" in relation to marriage. The modern version is both a unity ritual and community ritual as you can have members of your community help with the tying. There are a number of variations possible, including one to seven assistants, and a single cord or individual ribbons.

Toast

Including a toast to the newly married couple can be a great way to close a ceremony, especially if you're at a winery or not having a traditional reception where toasts will be offered.

Flower Blending

An updated twist on the classic sand ceremony, two different kinds/colors of flowers representing the couple are blended into one bouquet. There is an optional final part of the ritual that involves reaching out to parents.

Tree Planting

A living, growing memento from your marriage ceremony is perfect if you're homeowners. The imagery of nurturing the tree with sun, water and nutrients parallels your marriage nicely. If your ceremony is taking place away from your home, you can plant into a pot for the ceremony and transplant to your yard later on.

Unity Candle

The original unity ritual, the Unity Candle, can be performed with a number of variations, making it fresh and new for you.

Sand Ceremony

The classic sand ceremony unity ritual creates a lasting memento of your ceremony and represents visually the blending of your lives in marriage.

First Dance

If a dance isn't part of the reception plan, why not have your first dance as the unity ritual after your exchange of vows and rings. Lots of great symbolism with this one.

Family Sand

A great ritual for blended families; different colors of sand representing each family member are blended. Optionally, the couple can blend some of their sand first, representing their marriage as the foundation for the new family.

Custom Rituals

If you have a hobby or interest that helps define you as a couple, I'm happy to work to integrate it into the ceremony with a custom ritual. In this case, hot toddies were the signature drink for this fall wedding, so the couple mixed one for their unity ritual. The characteristics of the ingredients were compared to aspects of their marriage.

Ring Warming

Beginning early in your ceremony, your rings are passed among your guests. They each imbue the rings with their love and good wishes. The rings will always remind you not only of the love of your partner, but of the loving, supportive community that surrounds you both.

Wishing Pebbles

This community ritual allows guests to imbue pebbles with good wishes for you going forward. Pebbles can be collected and wishes shared either during the ceremony or afterwards as you greet them.

Thumbprints

A versatile ritual, the couple, attendants and guests place colored thumbprints on tree. Can be used during the ceremony as a unity or community ritual, or even at the reception in place of a guest book.

Heritage Rituals

This Turkish tea ritual is a great example of a way to recognize your heritage in a meaningful way. Whatever your background, traditional rituals can be woven into your ceremony in creative ways.

Blended Family

A special gift, offered to children by a new step parent, can be a special reminder of the day a new family was formed.
Venues
Area venues offer wonderful ceremony spaces. See also, a great list of
local venues
with links that you can check out. Click on the picture to open the gallery.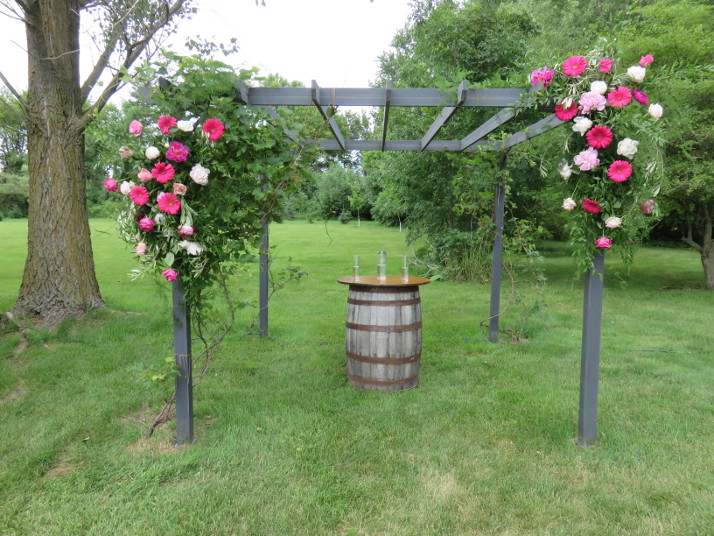 Coop's Event Barn, Outdoor Ceremony Space, close-up

Coop's Event Barn, Outdoor Ceremony Space, close-up

Coop's Event Barn, Outdoor Ceremony Space

Mayowood Stone Barn, Outdoors

Mayowood Stone Barn, Loft

Rochester Golf & Country Club, Outdoors

Rochester Golf & Country Club, Outdoors

Rochester Golf & Country Club, Indoor Ceremony Space

Rochester Golf & Country Club, Ballroom

Rochester Golf & Country Club, Cricket Room

Somerby Golf Club, Outdoors

Somerby Golf Club, Indoors

Plummer House, Lower Gardens

Plummer House Upper Gardens

Plummer House Living Room

Four Daughers Winery

Rochester Art Center, Main Floor

Rochester Art Center, Glass Box

Rochester Art Center, Patio

Olmsted History Center

Olmsted History Center 2

Riverview Greens, Outside

Riverview Greens, Indoors

Garten Marketplatz, Byron

Kahler Grand Hotel, Elizabethan Room

Berwood Hill Inn, Lanesboro

Nelson Cheese Factory, WI

Science Museum of Minnesota